​​​​​​​In other words, peer pressure is when we feel that we have to do something because our friends are doing it. There may be occasions when we are afraid to speak our mind in case we get laughed at. When we feel torn between what our friends are doing, saying or thinking and what we really want to do, say or think.
Peer pressure tends to be associated with children and School but it is equally valid in the world of work and in society in general.
Of course, if our peer group is nice, responsible and sensible then copying what they are doing may be a good thing. Bethany is full of very nice peers. On the other hand, if our peers are up to no good and leading us astray then that is not good.
Our peers could be our friends where we live or work. Have you ever heard the saying "they are following each other around like sheep"? Or maybe we had a discussion with our parents, where they have asked us why we did something daft. Our reply may have been something along the lines of " we did it because our friends did it". And our parents might have said, "And if your friends jumped off a cliff, would you follow them?"
Peers influence our lives, even if we don't realize it, just by spending time with us. We learn from them, and they learn from us. It's only human nature to listen to and learn from other people in our age group.
Peers can have a positive influence on each other. Maybe another pupil, when you were at School, taught you an easy way to remember some algebra, or someone on the netball team taught you a good move. Perhaps a friend whom you work with recommended a good book for you to read, a good holiday destination, or introduced you to a new hobby or past time or indeed recommended a good school for your child.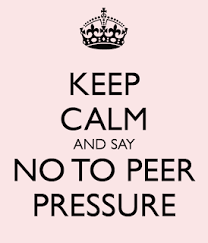 Some young people give in to peer pressure to be liked, to fit in, or worry that others may make fun of them if they don't go along with the group. Some may go along because they are curious to try something new that others are doing. The idea that "everyone's doing it" may influence some young people to leave their better judgment, or their common sense, behind. But if peer pressure is making us do something that you know is wrong, and could get you into trouble, or that makes us feel uncomfortable, then we should not do it.
The young people of today may feel pressured to drink an alcoholic drink, use social media inappropriately, or experiment with a substance, or lose weight, or look a certain way or do something wrong just to fit in. All of these are wrong and should be resisted.
It is tough to say "no" to peer pressure, but it can be done if we seek some help. We may also need to find our own inner strength that will enable us to walk away from uncomfortable situations.
If we continue to face peer pressure and we are finding it difficult to handle, we need to talk to someone we trust. In addition to having a very supportive parent body at Bethany, our pupils are very fortunate in that there are a range of people to within the Bethany community to go to for assistance including but not limited to; a teacher, a friend, an older pupil, the School nurse, the School Chaplain, House staff etc and we can get the right help so that we are better prepared for the next time we face unwelcome peer pressure
Remember that peer pressure can be a positive thing, such as:
• Our peers can motivate us to do better at school or at work
• They can inspire us to do something creative or pro-active
• They can cheer us up when we are feeling down, and help give us support when we can't find it elsewhere.
As long as it is increasing the happiness of everyone, and not making anyone feel anxious, stressed or upset, peer pressure is good but if peer pressure is making us doing something that we would rather not do then it far from OK and we should remove ourselves from this group. If we cannot do it alone then we must get assistance to help us out. We all need help from time to time.
In summary, it can be really tempting to do everything we can to fit in with our friends, but if we don't feel comfortable, it's OK to say "no" and make our own choices.
At Bethany we want all our pupils to be the very best versions of themselves and not second rate versions of anyone else.